"Mother Tongue is not only dramatic and engrossing, it is also insightful and wise. Read it! Read it! You will never forget it!"
-- Jane Smiley, Pulitzer-winning novelist and author of Perestroika in Paris
 "This author's worthy return is full of grace and substance . . ." 
-- Publishers Weekly Starred Review. Full Review Here.
" . . . this is in every way a thoughtful, compelling, and beautifully written novel about family and identity." 
 -- Booklist
"Joyce Kornblatt's voice is lyrical and powerful, and this lovely novel is about being lost and being found, in the deepest, most primal sense. A beautiful, beautiful book."
-- Roxana Robinson, author of Dawson's Fall, Cost, Sparta, and more
Listen to Joyce on Grace Cavalieri's The Poet and the Poem Library of Congress program. (Note: coming to Apple podcasts in January.) Watch Here
Mother Tongue begins with a shocking discovery.  In a powerful fiction that reads like a true story, the details of the crime and its aftermath unfold.
In mid-life, Australian fiction-writer Nella Pine learns that she was kidnapped as an infant from a hospital in the United States, taken to Australia, and raised there by the woman she knew as her mother, but who was actually her abductor.  "When I was three days old, a nurse named Ruth Miller stole me from the obstetrics ward in Mercy Hospital and raised me as her own."
In four voices of those whose lives were changed forever by the abduction, the mystery of Nella's kidnapping emerges. Why was she taken?  How was the secret kept for so long?  What became of the family she was stolen from?   Mother Tongue invites the reader to participate with these memorable characters as they unfold the impact on them of a terrible crime.
Order Now at Page Bottom
$17.95 trade paperback; ISBN: 978-1-7350273-1-9
$7.95 ebook; ISBN: 978-1-7350273-2-6
Distributors: Ingram, Baker & Taylor, Overdrive
About the Author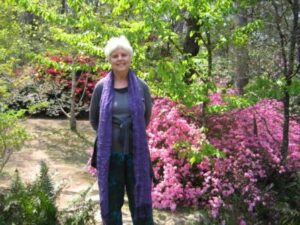 An American-born novelist who moved to Australia in 2003, Joyce Kornblatt is the author of four well-reviewed novels — Nothing to Do with Love, Breaking Bread, White Water and The Reason for Wings — which have been published in the U.S., England, France, Denmark, and Germany. Her short stories, essays, and book reviews have appeared in publications such as The Atlantic Monthly, The New York Times, The Washington Post, Georgia Review, Iowa Review, and The Sydney Morning Herald. She has received an O. Henry Short Story Award, grants in the U.S. from the National Endowment for the Arts, and a summer-long residency at the D.H. Lawrence Ranch.
For twenty years, she was a Professor of Literature and Creative Writing at the University of Maryland in the U.S. In Australia, she has taught and supervised post-graduate students at UTS and University of Wollongong. She has been a tutor at Varuna the Writers' House, mentored a number of award-winning Australian writers, and has for many years offered annual year-long private writing workshops in Sydney.
Joyce Kornblatt is also an Australia-trained mindfulness-based psychotherapist. For the last ten years, she has taught Buddhist mindfulness meditation and inquiry on retreats and workshops.
She and her husband, Christopher Ash, live in the Blue Mountains near Sydney.
Visit Joyce's website – here.
More Advance Blurbs:
"A profound and poetic exploration of grief, betrayal, and the exquisite resilience of the human heart."
-- Tara Brach, Author of Radical Acceptance and Trusting the Gold
"Lucid, humane and gorgeously written. In a slim novel with a big vision, Joyce Kornblatt sets her scarred but hopeful characters free to discover that loss is the mother tongue of us all -- and that rupture contains the possibility of wholeness." -- Rona Maynard, Author of My Mother's Daughter
"Mother Tongue is a beautiful, arresting novel. The clarities, prisms, temperaments, and tenacious obsessions are transfixing. If one question every novel asks is, "how does one define existence?" then Mother Tongue's difficult answer is that what keeps us together and what keeps us apart is made tangible by both reality and perception. All of which Joyce Kornblatt has shaped with sensuous, immaculate prose and profound authority. The book leaves me feeling that, at root, the past, as much as the present, is always haunted."
--David Biespiel, author of A Place of Exodus and The Education of a Young Poet
"What a fully immersive reading experience! The writing is hypnotic, the story strange and irresistible, the insights into the human condition occasionally breathtaking."
-- Monica Wood, author of When We Were the Kennedys, The One-in-a-Million Boy,  and Ernie's Ark.
"Mother Tongue is not only dramatic and engrossing, it is also insightful and wise. Read it! Read it! You will never forget it!"
-- Jane Smiley, Pulitzer-winning novelist and author of Perestroika in Paris
"Mother Tongue is a gripping and gorgeously written novel of identity, loss, and redemption."
-- Hilma Wolitzer, author of Today a Woman Went Mad in the Supermarket 
"A beautiful, wise, spellbinding novel that dramatizes, in the most lucid prose, a woman's pursuit of her own lost identity."
-- Joanna Scott, author of The Maniken and Careers for Women
PRAISE:
"The book is beautifully written, poetic, and heart-wrenching. It's a window into the fortress of the soul, giving the reader an opportunity to witness the raw, nonlinear way that someone must learn to live with a broken heart. The sharing of each other's stories becomes the pathway to redemption and a new life, as well as the fuel that keeps each person going. Kornblatt's novel shows just how beauty and blight can be interwoven, and in accepting one, the other might be embraced."
-- The Christian Science Monitor
"Mother Tongue is a tender and sensitive story about family secrets, loss and recovery from loss; a wise and lyrical meditation on the nature of love."
-- Gail Jones, author of Our Shadows (2020)
"In Joyce Kornblatt's exquisitely written novel, Mother Tongue, a middle-aged woman discovers her long-lost identity along with the layers of loss spiraling from her having been kidnapped at birth. The immediate and long-felt impacts of this tragic loss—crossing generations and continents—are explored with compassion, precision, and depth. Sympathetic characters, an abundance of human wisdom, and beautiful, lyrical prose combine to make Mother Tongue a wonderful read."
--Elizabeth Poliner, author of As Close to Us as Breathing