"Extraordinarily well written, presented with novelist Michael Kinnamon's impressively memorable and entertaining narrative storytelling style, Summer of Love and Evil is especially and unreservedly recommended for community library General Fiction collections." -- Midwest Book Review
​Sample Now. No downloading required. First Two Chapters.
It's 1967 in rural Iowa as drugs, corporate farming, and Vietnam are beginning to take their toll on small-town American life. When Charles Weaver's plans for the summer after high-school graduation go awry, he ends up working on the street crew in his hometown of Lockwood before heading off for college.
Charles, school valedictorian and son of a lawyer, not only knows nothing about driving tractors and laying asphalt, he can't remember even meeting the regular members of the crew: Dexter, who collects discarded furniture for the house he's going to build someday in the Ozarks; the Shakespeare-quoting Moss, a teacher in rural schools before consolidation of the district, and their boss, Clyde, whose strength and temper are legendary in Savannah County. As their lives become increasingly intertwined, Charles becomes protective of his new friends, especially after he watches the sheriff toy with Moss for driving too slowly on the highway and listens as the street crew is disparaged by his father's friends at the Country Club.
Two things change Charles's summer experience and his life dramatically. On the spur of the moment, he asks Clyde's daughter, Frankie, to go on a date, and their romance is a surprise to everyone, including them. Then, the oldest log church in Iowa, hidden away in a heavily-wooded corner of the county, is destroyed by fire, and Charles stumbles upon a badly-burned body while cleaning up the debris. Was this an outsider mixing meth in the hard-to-find church, as the sheriff contends? Or was someone local involved, as Charles suspects? Charles, the sheriff, and Frankie collide in the stunning climax of this touching novel about a boy becoming a man through his growing awareness of the complexity of love and the subtle power of evil.
"A tale of profound, irrevocable changes in the middle of America in the 1960s, as a sheltered, upper-middle-class teenager becomes transformed, not only in his own physical and spiritual self, but also in his awareness of class and race and forces of discrimination he'd never had a clue of before. The narrative is powerful in its solid simplicity and dramatic, quietly vivid events. Although the time is past, the novel is very much of the present."
--Ellen Cooney, author of One Night Two Souls Went Walking, The Mountaintop School for Dogs, and more.
Available to Order Now 
​Trade Paperback: $16.95  ISBN: 978-0-9979137-5-0
Ebook: $6.95  ISBN: 978-0-9979137-6-7
​Michael Kinnamon, a native of Iowa, is a former professor of Christian theology, author of several nonfiction books, and highly regarded as a scholar in the field of ecumenical and interfaith studies. He is the former General Secretary of the National Council of Churches, headquartered in Washington, D.C. He lives with his wife, Mardine Davis, in San Diego. This is his debut novel.
Read an interview with the author from the San Diego Union Tribune. Go Here.
​"This is a very lovely, clear-eyed book about a young man's dawning awareness of extraordinary men and women, as well as the hard realities, in a Midwestern town where he's grown up. A generous and moving evocation of people living in a world that's undergoing change, and the ways, some deeply compassionate, others coldly cruel, with which they move into the unknown."
-- Douglas Penick, Author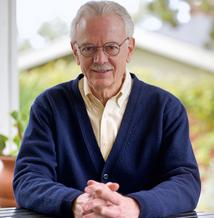 Michael Kinnamon
Photo Credit: T.J. Carter