Available Now . . . Wherever Books Are Sold
As heard on NPR, Interview Here.
See Ordering Options at Page Bottom
"The Black Cell illuminates the many facets of Blackness and the destructive power of whiteness. Shaia's ruthless perceptiveness in depicting the mechanisms of a racist society is equaled by the finesse of her draftsmanship in crafting the inner lives of characters shaped by—and resolved to dismantle by any means necessary—those mechanisms." 
-- Lawrence Lanahan, author, The Lines Between Us: Two Families and a Quest to Cross Baltimore's Racial Divide
READ FREE SAMPLE HERE, No Downloading Required
It's 2024 and police brutality against Black people is at an all-time high in Baltimore and across the country. Corey Masters, a young Black man, is deeply troubled by experiences of racism during his childhood. After a false arrest and beating by police, Corey's anger is at boiling point. It is then that his roommate introduces him to the Baltimore Cell, one of many secret groups around the country recruiting and training Black people for armed resistance.
Corey joins the Cell and meets Tasia, a young single mother who is trying to find a place in the world for herself and her toddler daughter. Both Corey and Tasia become involved in the Cell's armed resistance against white supremacy. The U.S. is on the verge of electing a new president, who will bring to power a group called The Alt, which is determined to return Black people to slavery. The Cell joins with La Lucha (its Latinx counterpart), which is organizing armed resistance to protect Latinx residents and immigrants. Together, the two groups maintain a growing membership in the millions.
The Black Cell is a Black dystopian fantasy, grounded in the author's experience as a Baltimore activist, professor, and social service leader. Unapologetically targeted to Black readers and others interested in Black liberation, this will appeal to readers of utopian fantasies like Octavia Butler (Parable of the Talents) and Ta-Nehisi Coates (Black Panther).
Order Now at Page Bottom. 
$19.95 trade paperback; 440 pages; ISBN: 978-1-7350273-3-3
$9.99 ebook; ISBN: 978-1-7350273-4-0
Distributors: Ingram, Baker & Taylor, Overdrive
About the Author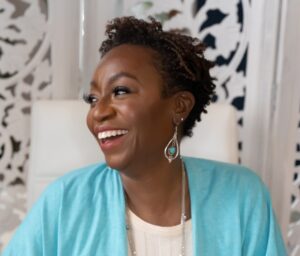 Photo credit: Ruthie Skillman
As a social work professor, Wendy Shaia has published a number of non-fiction articles examining issues of oppression experienced by Black people in urban settings and has a significant following for that work. She regularly speaks and trains on anti-racist practices and Black liberation. Her short stories have been published in The Dillydoun Review, Fiyah Literary Magazine, and Midnight and Indigo.
Learn more about the author at her Website.
OTHER LINKS:
Listen to Wendy Shaia on NPR Baltimore Midday with Tom Hall
Read Interview in VoyageBaltimore
Visit The Black Cell Facebook page
MORE ADVANCE PRAISE:
The Black Cell is an engaging and powerful read. I could not put it down, I was so enthralled.
Wendy Shaia does a beautiful job of weaving more distant history with current history into a dystopian (though, not too distant) future, which both feels omniscient and hopeful. Omniscient because it isn't hard to see this coming to pass given our recent history as a nation and the full history of anti-Blackness in this country. Hopeful because what Wendy has done is provide us a way to activate our own radical imaginations about community building around mutual aid, resistance, and self-defense. She shows us that as Black people, we have power when we can unite against white supremacy and she lays out the complexities within and outside of the Black community around organizing.
Further, she very deftly teases out the various ecosystems in which Black people live and by which our senses may become dulled to the realities of white supremacist culture and systemic racism in ways that humanize the characters and the struggles they have as they learn a more complete history of the United States, the Black freedom struggles, and the realities of the present moment. While weaving history throughout, she never loses sight of the present struggle for full liberation and charts a multi-pronged path forward in the tradition of Marcus Garvey, Angela Davis, Malcolm X, and others.
This book is a must read for all Black people and non-Black people alike because she takes on education, politics, criminal justice, and media and illustrates there is much for each of these institutions and those within them to learn about the ways Black children and adults are viewed and treated as well as the myths that uphold white supremacy and anti-Blackness.
The Black Cell was both suspenseful while being grounded in the lived realities of many of us. I am looking forward to utilizing this book in my professional development sessions, can see this book being used in literature and critical studies courses from education to communication studies, and think it will make an excellent book club pick. Few books leaving me wanting more like this one has; I cannot wait for the sequel.
-- Xyanthe Neider, Ph.D.; Anti-racism educator & professional development facilitator
"Wendy Shaia's The Black Cell is an outraged howl, a raw exploration of racial inequity. Written from the heart, it presents a world the author knows intimately – one we all live in but experience differently, no one escaping the snare of an unjust system whether they recognize it or not. The book lands like a gauntlet tossed – a challenge implicitly asking: will we stand up as agents of change, or merely stand by?"
Peter Bruun, Social Engagement Artist
ORDER NOW AT LINKS BELOW:
WHAT PEOPLE ARE SAYING:
"This compelling first novel written by Dr. Wendy Shaia is reminiscent of a contemporary version of the television series, The Wire. Set in Baltimore, Shaia's detailed account of the individual and community effects of systemic racism is poignant and raw. The novel, through its characters' experiences, exposes the painful truth of how white supremacy intentionally oppresses Black people, whether through legal, political, social, or economic structures."
-- Jennifer Swanberg, Ph.D., Professor of Health Sciences, Providence, RI
"Wendy Shaia has increased the volume on voices that are often not heard by magnifying the existences of Baltimoreans that are often not seen.  Through her intense and real storytelling, Wendy introduces us to the Black people of Baltimore, that they are alive and living through the traumatic effects of racism.  She captures the struggles and complexities of inferiority of Black people, which is the constant effort to be heard, seen, and to feel normal."
-- Barbie Johnson-Lewis, LCSW-C, President, Board of Directors, National Association of Social Workers MD Chapter; Founder, Lotus Healing Services
ORDER AT PAGE BOTTOM